Newton Tab Covers our 10th Anniversary
Did you see the article in the Tab from September 11, 2019 about our 10th anniversary? Below is an excerpt.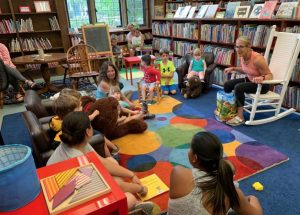 Eleven years ago, the Waban Library Center's future was anything but certain after Newton closed all the neighborhood branches for financial reasons. However, after volunteers took the helm, the library has been thriving and is celebrating its 10th anniversary this month.
On a recent weekday morning, babies rolled on the floor and smiled while other children played and listened to Sue Bear's lively rendition of "The Bad Seed," a picture book by Jory John. The colorful children's section was packed with locals happy to have a vibrant, free place to visit within walking distance and adjacent to the Waban T stop.
"They love coming here for story time," said Kayla McSeveney, a nanny who brings her three charges in to play and listen to picture book readers. She said they enjoyed visiting because the space is small, contained and "it's not overwhelming."