At the Waban Library Center we started with over thirty volunteers and we are still staffed entirely by volunteers, and funded entirely by donations from people and organizations. We receive no funding from the City of Newton from whom we lease our building. Our annual operating costs are approximately $18,000.
Your gift supports the books and events you love here at the Waban Library Center. Please contact Alice Jacobs, Volunteer Director, at (617) 244-0700 or at alicedjacobs@gmail.com with questions. Checks can be mailed to the WLC at 1608 Beacon Street Waban MA 02468. The Waban Library Center is a 501(c)3 charitable organization under the auspices of the Waban Improvement Society. All donations go to the Waban Library Center.
Donate Now
Please use the button below to make your tax-deductible donation.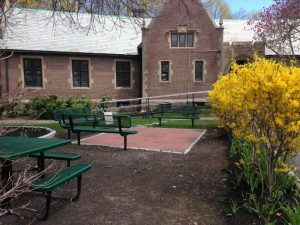 Patio Brick Donations
To donate to the Waban Library Center takes different forms. One way is to buy one or more bricks with your own inscription on it that will become part of our beautiful Patio. Many people have done that and the results are part of the ongoing tradition of Waban and its library. Be part of it through giving!
There are three easy ways to purchase a brick. First, if you can read and print pdf documents on your computer, you can click on either of the forms below, print it out and mail it in with your check. Second, you can come into the library with your check and we will have the forms at the front desk. Third, if you have any problems you can email us at wabanlibrary@gmail.com and we will help you.